Setlists
Een setlist, ToDo-list of setlist template wordt gebruikt om op te treden. Als één bandlid een setlist maakt, dan profiteren de andere ook daarvan. Sleep je eigen setlists in elkaar op basis van je repertoire: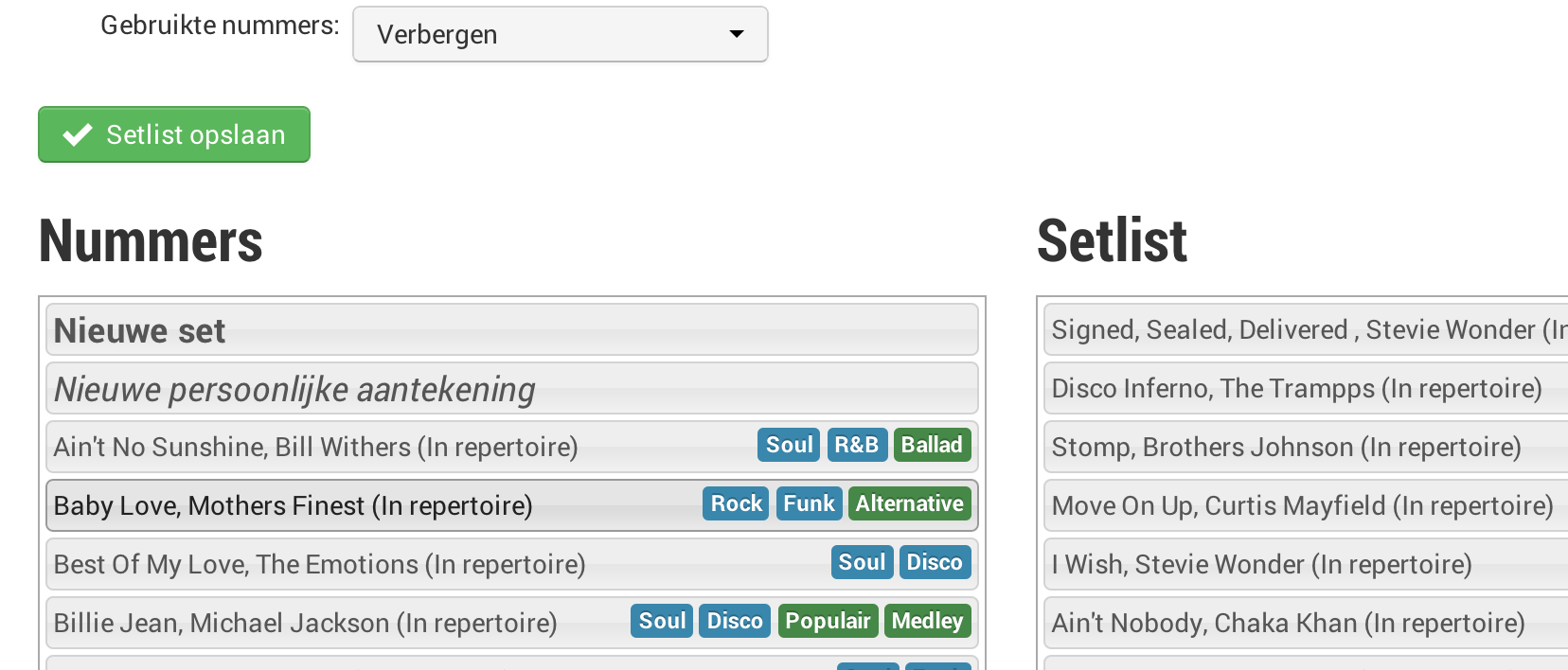 Voeg behalve de nummers, ook bijvoorbeeld kopjes toe (Set 1, Set 2, etc.) of voeg een notitie tussen, met behulp van 'Nieuwe persoonlijke aantekening'.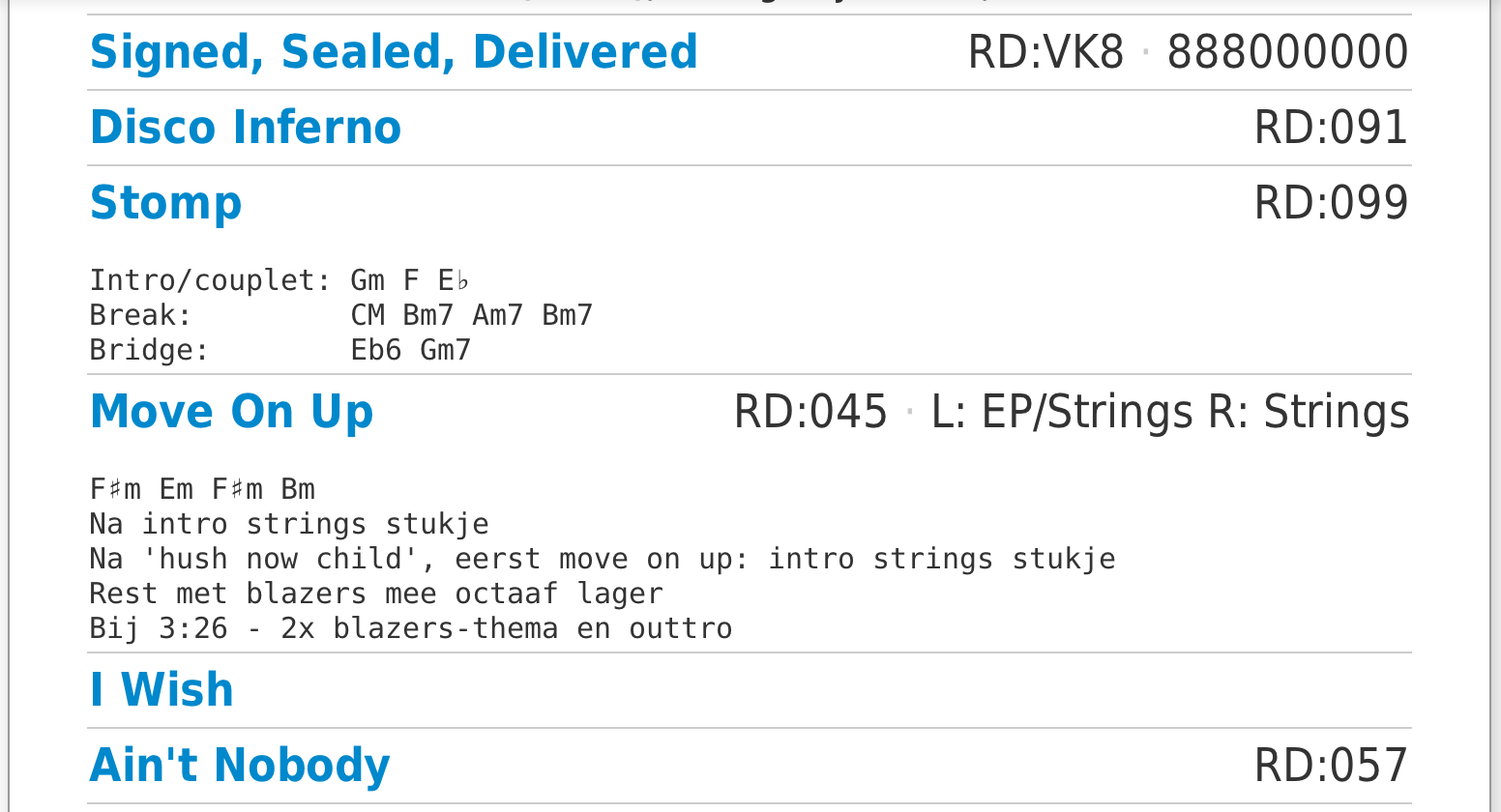 Bestaande, bij de nummers behorende volgorde, toonsoort, etc. veranderen mee in de nieuwe setlist zodra een bandlid dat aanpast. Bij de setlist staan 'sliders' en gemeenschappelijke en persoonlijke 'velden'. Daarmee kan de lay-out van de setlist worden beïnvloed en wat er getoond wordt op de setlist.

Sleep de velden heen en weer tussen wordt wel en niet gebruikt op setlist en ontdek zelf hoe handig het is.

Bestanden
Met 'Bestanden & Links' is het mogelijk om binnen je band of groep bestanden en hyperlinks te delen. Niet alleen zijn de bestanden handig te filteren door een label, maar ook zijn bestanden te koppelen aan een optreden, repetitie of nummer. Dit maakt het bewaren van bijvoorbeeld flyers, facturen, MP3's, foto's, etc. erg gemakkelijk. Met SongBandit kan een bestand worden opgeslagen met een label. Elk label wordt onder 'Bestanden & Links' in het menu in SongBandit weergegeven. Dat kan er bijvoorbeeld zo uit zien: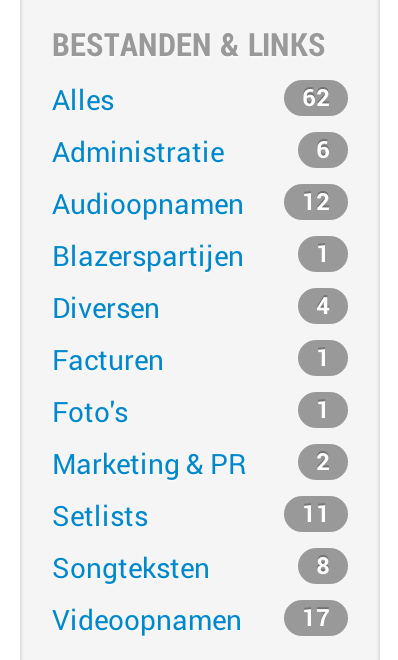 Zodra een gebruiker klikt op een label worden alle bestanden met dat label getoond. De bestanden kunnen direct worden gedownload vanuit SongBandit.
Het uploaden van een bestand is handig, maar ook hyperlinks kunnen worden toegevoegd! Zo wordt het mogelijk om niet alleen een factuur op te slaan, maar ook een link naar Youtube met bijvoorbeeld een set van je laatste optreden. In de details van een bestand of link is verder een extra datum veld opgenomen dat naar behoefte kan worden gevuld.
Lees verdere details over SongBandit onder "De beste tools voor je band", waar alle mogelijkheden om samen te werken zijn opgesomd, of maak direct een nieuw account aan en probeer SongBandit zelf.